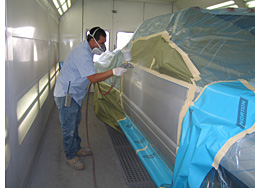 As part of the repair process practiced at Karl's Collision Repair, all damaged parts are replaced with OEM (original equipment manufactured) parts. All structural members are installed either by mig or spot welding procedures to factory specifications.
All body work is primed with BASF premium primer, block sanded and prepared for painting. BASF's ColorMax® color matching system is used to match any refinish color. The paint is baked to a factory quality finish in one of our downdraft paint booths. Vehicles are color sanded, as necessary, and polished to a high factory luster. All vehicles are detailed and inspected before delivery.
Karl's Collision Repair uses only high quality BASF automotive paint, which is guaranteed for as long as you own your car. We work with all insurance companies.

If you are ready to have your vehicle repaired or if you are just looking for an estimate, please fill out our appointment form and we will get back to you as soon as possible.
---
6725 North 56th Avenue
Glendale, AZ 85301
623-931-6092