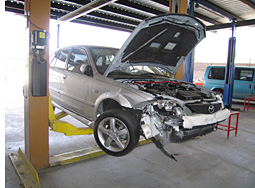 Karl's Collision Repair understands the importance of quality auto body repair. With experienced technicians and state-of-the-art equipment, Karl's stands out among its competition. Owner Robert Karl has been in the auto body repair industry for over twenty years. His experience and attention to detail makes his business unique. Some of the services we offer include:
Open 5 Days A Week
Full Service Auto Body Repair
State-of-the-art Equipment
BASF® Diamont Paint
24 Hour Towing
Rental Car Arrangements
Shark Computerized Frame Measuring

Producing the highest quality product is vital to the success of Karl's Collision Repair. The paint is mixed and matched with the computerized BASF paint mixing system and the base coat is applied with a high solids clear coat. The paint is then baked to a factory quality finish in one of two downdraft heated paint booths. Vehicles are color sanded, as necessary, and polished to a high factory luster. All paint work is backed by BASF's lifetime warranty.
What should I do?
Stop and identify yourself. Check to make sure everyone is okay, call for help if necessary. Exchange driver's license, registration and insurance information with the driver of the other vehicle. Also provide the same information to a police officer if present. If you are injured seek medical attention immediately. Write a description of the accident as soon as possible, take video or pictures of the scene, even if it means having to return later.

Do I report the accident?
If the property damage exceeds the minimal dollar amount set by the state in which you reside then you must report the accident to your state's Motor Vehicle Department within the prescribe time limits required by your state, or if death or injury result.